What does a BBQ mean to you?
A BBQ is many things to people. It can be
about
the meat, cooked low and slow. It can be
about
the right kind of charcoal. It can be about the right sauce or the best rub. How to BBQ is all of this and more.
But one thing you can not deny is above all else its about sharing time with your loved ones and enjoying good food and a drink.
A BBQ is about creating a moment to cherish, with food to remember and people to love.
That is what we firmly and we hope you will join us on the journey to help educate, inform and share
We are in the process of filling this site with all the things you want to know about how to BBQ and get it done right. Like most things this is a labour of love and you never stop learning. So we shall be updating and filling our boots with all things BBQ.
We will have everything from techniques, videos, favourite recipes to hints and tips, all with the single aim of making sure your BBQ goes well whatever the weather.
If you want to share a recipe or have a question ask then reach out and let us know, we would love to hear from you.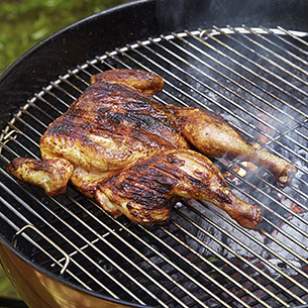 In this whole grilled chicken recipe, the backbone is removed and the chicken is flattened then grilled under the weight of 2 bricks--which enables it to cook quickly and evenly. The homemade rub recipe makes enough to prepare 2 pounds of boneless chicken or 4 pounds...
read more